The COVID-19 virus affects us all. The impact of it has been dominating the news the past couple of weeks. In these uncertain times people are looking for a trustworthy source for information.
According to the Edelman Trust Barometer 2020 (one of the leading communication agencies worldwide), 74% of people worry that there is a lot of fake news and false information being spread about the COVID-19 virus. And almost half of them (45%) indicate, that it has been difficult for them to find reliable and trustworthy information about the virus and its effects.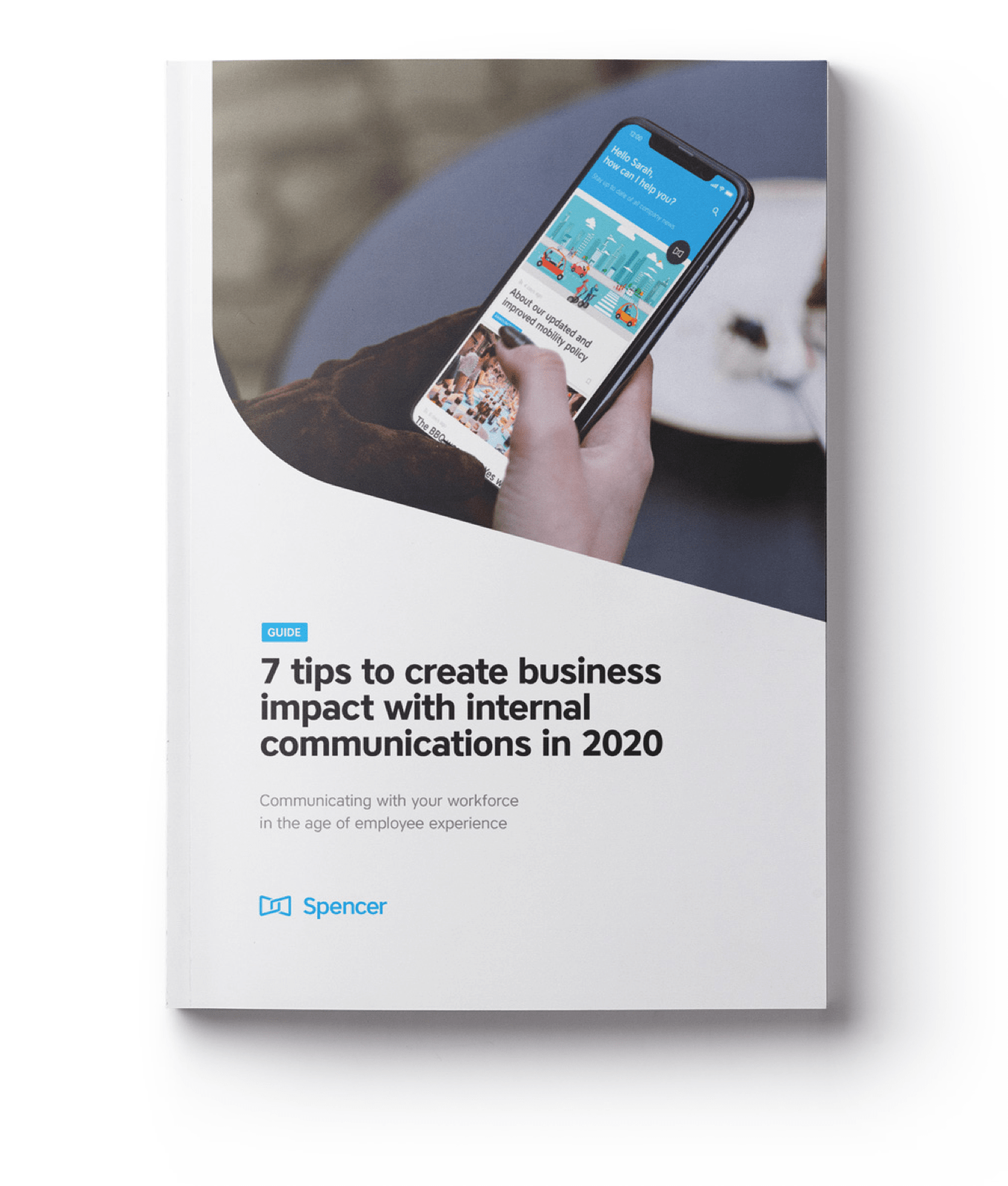 Download our free guide and learn how to create business impact with your internal communication
It goes without saying that in times like these, people all over the world are looking at their leadership for both information and guidance. People consider their employers as a trusted source of information, so we need to (over)communicate with our teams and team members.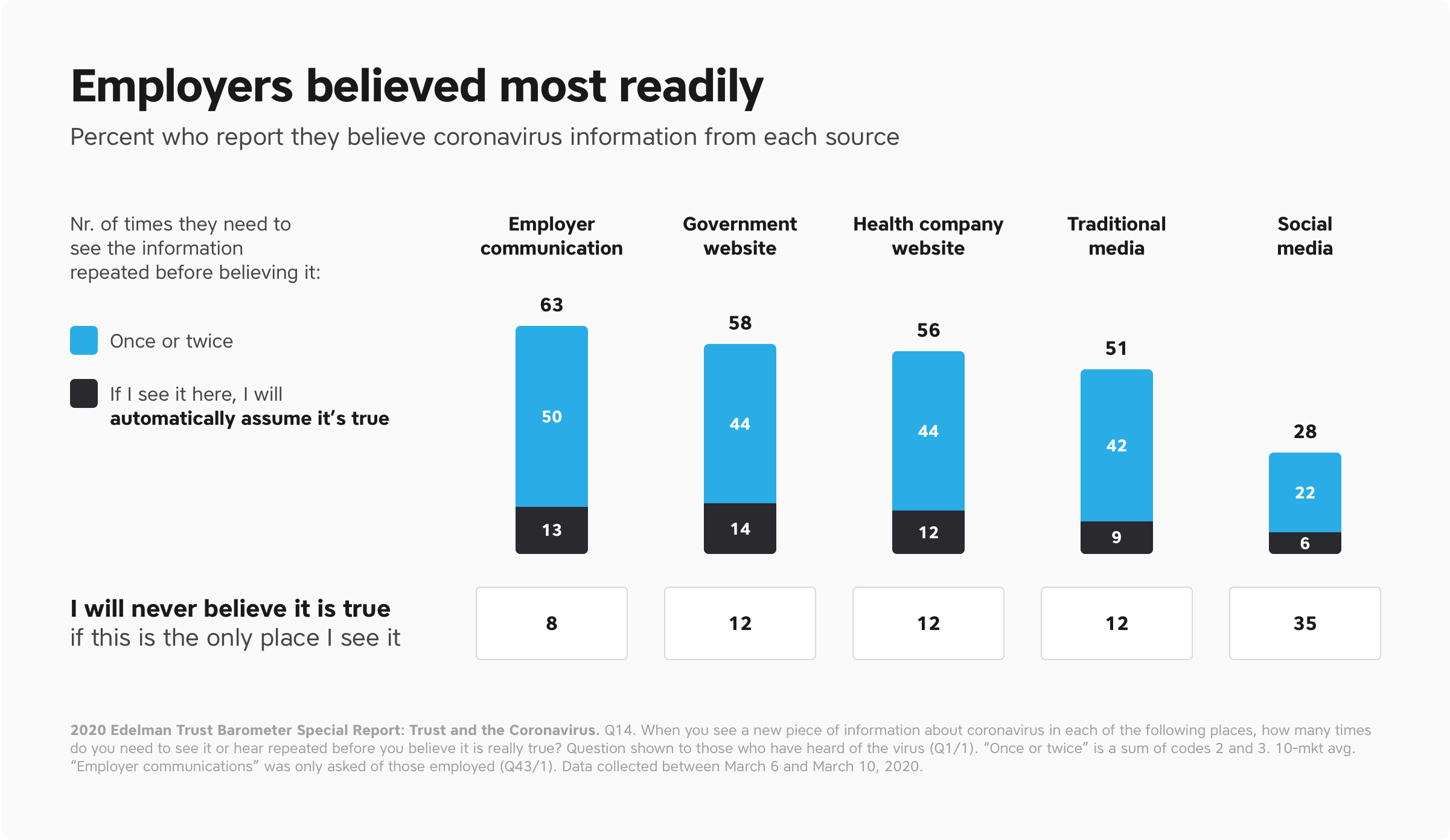 It's (as always) a matter of providing the right information, at the right time, for the right people and to repeat and re-enforce especially in times of crisis. It's up to the leadership to not only make sure your people are well informed, but to motivate them and to give them the foresight that we will come stronger out of this as a company and that we are able to maintain the business, restore public health and come out on top in the end.
Over the last few weeks we've seen customers worldwide leveraging Spencer, our employee communication platform, as a means to communicate with their employees — across verticals, industries and cultures.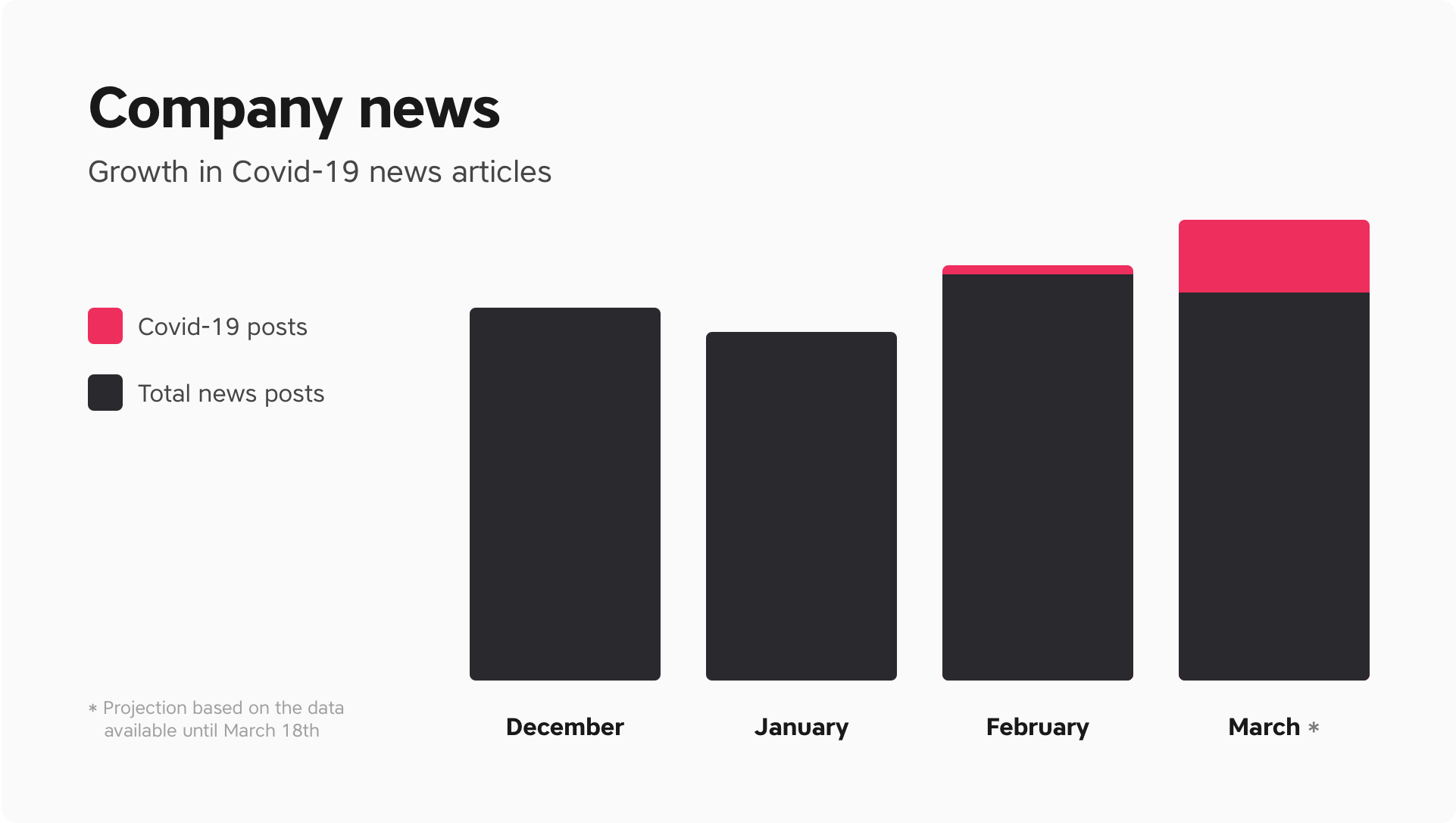 The statistics confirm the above mentioned research: employees consider their employer's voice, guidance and instructions as a critical resource in times of crisis.
We've analysed both the content published and the employee response, across our customer base and identified a series of best practices.
1. Be proactive, act swiftly
Where possible, our customers are proactive in the measures taken. From stimulating working remote, to sanitary and hygiene measures — they often addressed them before the government requested them to.
Then, as official guidelines were tightened or enforced further, they all acted very swiftly (within minutes or hours) to re-issue these governmental guidelines internally and tie them back to already applicable or newly issued internal measures.
Referencing guidelines, checklists, documents and videos.
The employee uptake of these messages was the highest — paraphrasing the official guidelines into organisational actions, within hours after the official statements, is a critical aspect in building a trustworthy crisis communication.
2. Contextualize your guidance
Most of our customers also personalised their follow-up messages. They re-iterate the specific impact, request or measures for specific target audiences: whether travelling consultants, shop-floor personnel, sanitary workers or care-givers in elderly homes or care institutions, etc.
The more specific you can guide the respective audiences, the closer you can tailor the advice to their context, the more impactful the message.
And it's the combination of the general message, re-enforced with the "what we expect from you" that has the ultimate impact.
If you lack such deep-personalisation capabilities.
It goes without saying that first element in personalising the message is to address employees in their mother tongue. The tone, the nuances and the word-choice is key in managing a very emotional and uncertain situation.
3. Be consistent and repeat
Consistency is key, repeat what's already been done, emphasize what remains in place and then talk about what's new. Your employees are looking for trustworthiness, re-assurance and that requires stability in you message and tone.
We've even seen customers indicating upfront, when a new update was to be expected — to demonstrate that the organisation is on top of the situation and will circulate its guidance shortly. Others consistently picked a time of the day to re-iterate and update on the situation.
4. Maximize your reach and impact
Obviously, many of our customers have opted for an employee communication platform like Spencer, to make sure they can reach their decentralised staff, their remote workers — both blue and white collars — as and when needed.
If that's not your setup, grasp all means to get your message across, whether's it text-messages, emails, digital signage, white-board, … And even when you do have a channel to reach all employees, the other channels can be used to draw attention or drive traffic. Make sure your content is up to date in 1 place, and leverage whatever touch points you have, to get your employees there.
5. Be specific and to the point
Lastly, we've seen the biggest impact with specific and crisp messages. Bullet lists and visual illustrations can go a long way in providing clarity, keeping it brief and clear. Messages on our platform were often short and concise in "novelties", and had more depth underneath to recap what's already been done, to re-iterate measures taken or clarify the new measures and guidelines further.
Use an internal communication platform
In many industries employees are now working from home, and there's a clear uptake in collaboration tools and peer-to-peer messaging solutions. These are excellent channels to facilitate our tele-working.
The organisational communication however, the measures taken, the leadership's guidance, … should have their dedicated channel. You don't want "the important" mingled with "the urgent and perhaps less important or even non-important". A dedicated channel, without noise or distraction, to reach all employees in a timely and relevant fashion is paramount.
And if your employees are fighting the virus, or ensuring supplies of food or drugs; support them, embrace them, guide them, coach them.
Together we can achieve great things!