It is with great excitement that we announce our July release! We've been working night and day to be able to provide you this awesome update, including new features and functionalities. And not to forget: our measurements beta release.
Bringing our form builder to Surveys
After implementing our improved form builder in our January release, we now brought the same building experience to our Surveys feature in the back office. The way how you create a survey, is now 100% aligned with the experience from our form builder.
Also the surveys that you created previously, will now be available and opened in the new builder.
Now available in 12 world languages
Because Spencer is going more and more international, the requests for additional languages is increasing. That's why from now on, Spencer is also available in 9 additional languages, bringing the total to 12. Here's the complete overview:
🇺🇸 English
🇫🇷 French
🇳🇱 Dutch
🇩🇪 German
🇪🇸 Spanish
🇮🇹 Italian
🇵🇱 Polish
🇳🇴 Norwegian
🇹🇩 Romanian
🇸🇮 Slovenian
🇷🇺 Russian
🇨🇳 Chinese (simple)
Extensions in the back office
Our extensions module is now visible in the back office. This provides a handy overview of all your extensions in the Spencer ecosystem. This way you can easily browse to your own extension and stay logged in.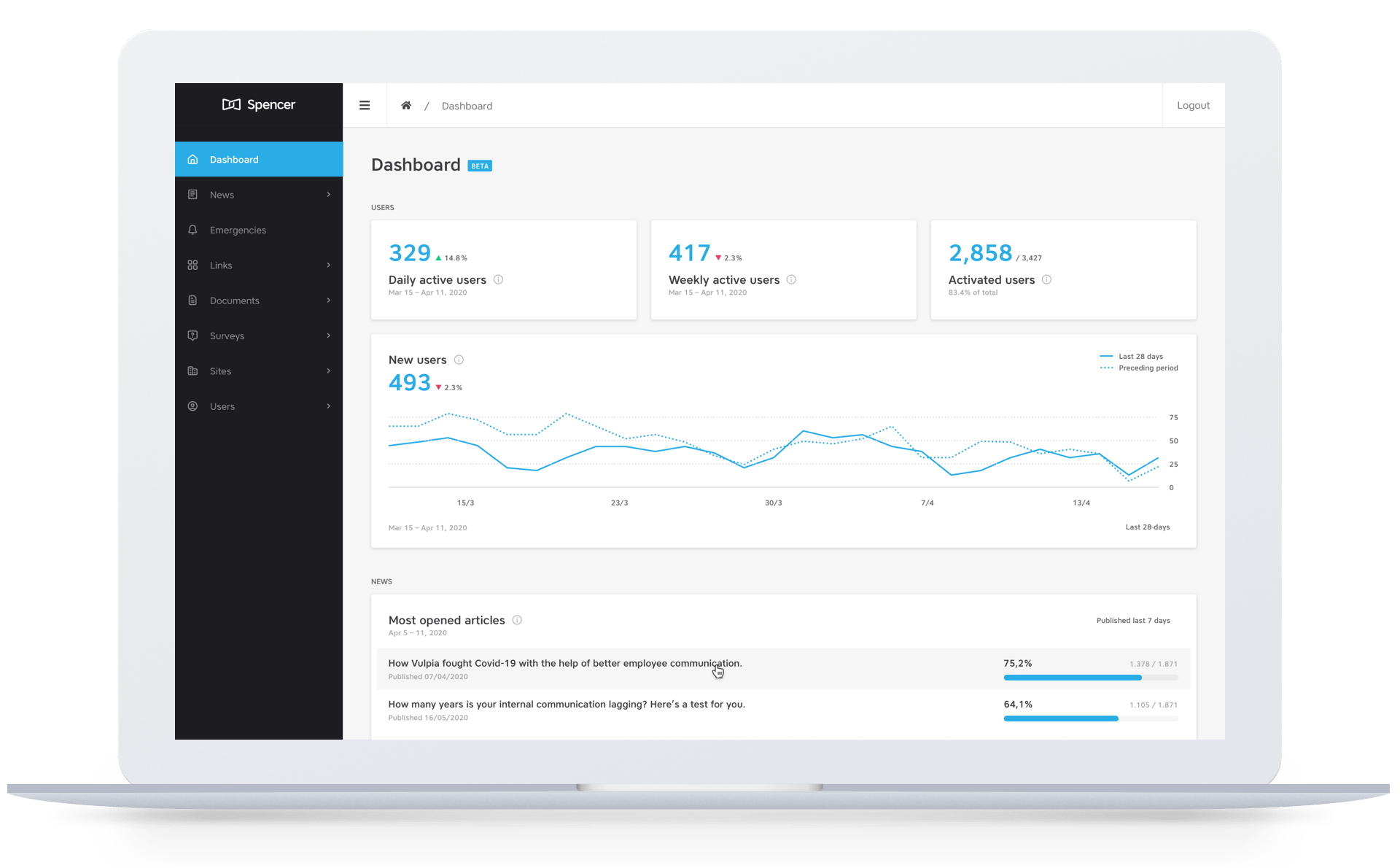 In this release, it is time to really start measuring the impact of your internal communication efforts. Based on all of the input and feedback you've been giving us in the past couple of weeks, we heavily invested in bringing this beta release to you.
Getting your messages across is one thing, but making sure if they are read, is another. Well, we're doing it. We give you insights in how your articles are being read over time, to analyze the performance of your communication efforts.
On top of that, we also provide you the best performing articles of month, to see which messages are best performing.
To deliver your messages to your employees, the first thing you need to do, is to get them to use Spencer. To get a better understanding of how Spencer is being used in your organization, we created a measurements dashboard. It will provide you information on how many employees are being activated, the amount of newly activated users and the user activity frequency.
Are you interested in joining our beta testing group, and start measuring the efforts of your organization? Reach out to our team and we'll reserve you a seat!
We fixed an issue on the desktop app, where being offline or having connectivity issues could trigger a logout.
To keep things tidy, we now automatically delete users that have been archived for more than 45 days.
Small bug fixes and general improvements.