Spencer,
the all-in-one employee experience platform
Alleviate employees of daily burdens brought about by the complexities of legacy systems, eliminating frustrations & driving productivity.
Capitalise on the big moments that matter to your employees with memorable digital experiences in a zero-frustration digital companion.
Deliver your message with impact
With Flow & Moments you create an employee-first channel that people actually use and love every day. Ready to unleash the power of Spencer's communication capabilities.
Collaborate across communication, HR & engagement teams in one environment to craft, manage & deliver the organisation's digital employee experience with Spencer.
Spencer respects
security & privacy
Spencer is
enterprise-ready
Spencer One
Start today with our plug-n-play solution.
The Spencer One plan packages the key features to easily connect with your employees. The out-of-the-box solution for companies of all sizes.
Intelligent who's who
Segmented messaging
Location-aware
Powerful knowledge base
Desktop & mobile enabled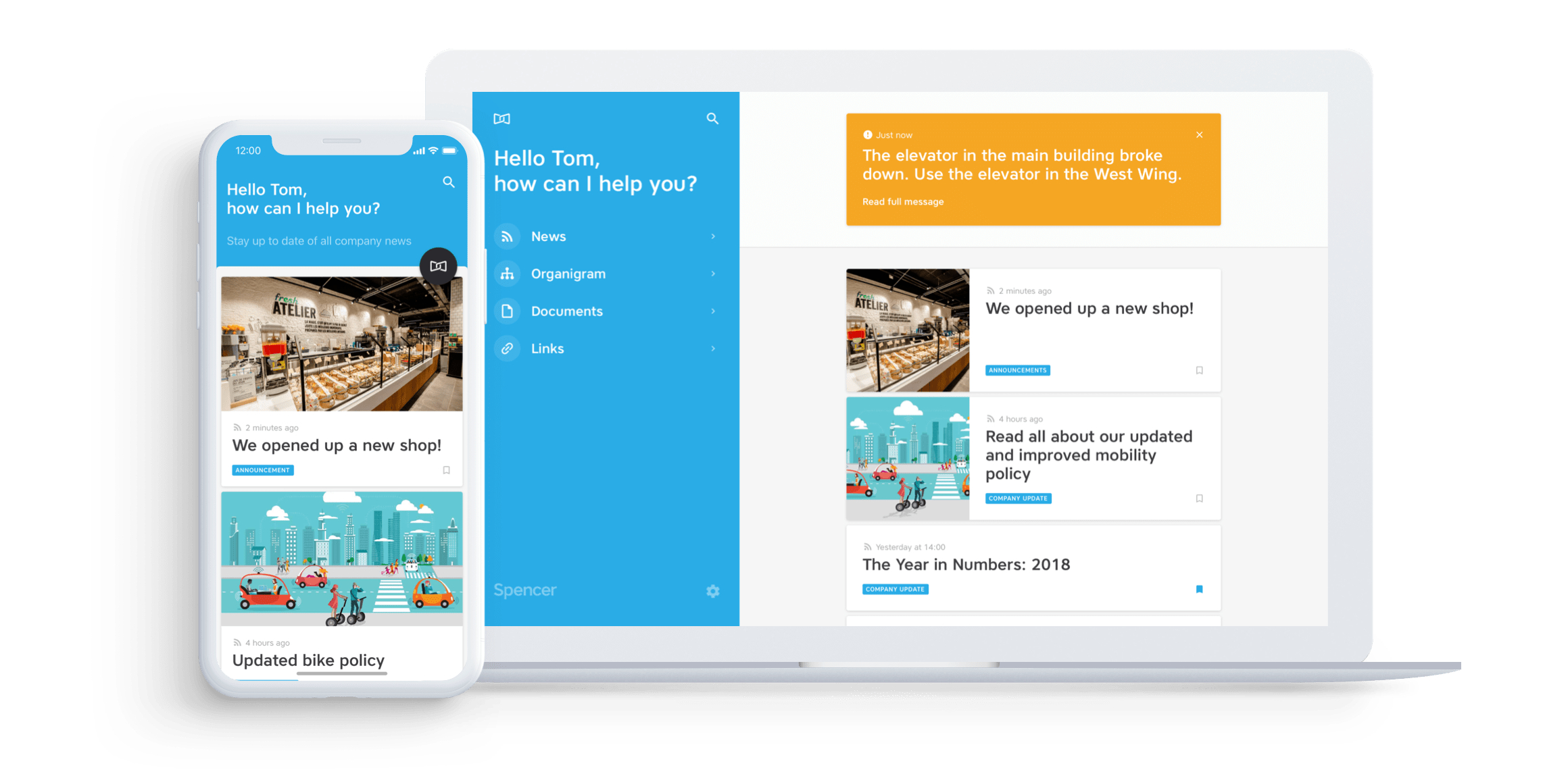 Spencer is powered by a range of capabilities to grasp all the benefits of our employee-journey thinking.
Segmentation & targeting
Our segmentation builder lets you tailor the experience to specific company groups (departments, offices, project teams, etc).
SSO or Spencer invitation
Spencer connects to your Single Sign-On system. A secured and invitation-based account can be created for unenrolled workers.
Profile & personalisation
Employees can manage their profile and personalise their Spencer experience, providing optimised services for every individual.
Push notifications
Spencer subtly uses notifications to facilitate transactional processes and keep employees informed.
Unified search
Finding a document, news post, policy or a colleague is easy: one request, and Spencer provides the most relevant result.
Location awareness
Using GeoFencing, Spencer can present office location-specific information: meeting rooms, lunch menu, latest local news, …
Spencer gets access to all the information he needs through company-specific integrations. Among others, we are ready to integrate with: